Technology is a godsend during this difficult time of Lockdown, says Riad Davids, president of Western Cape Tennis, a member of the Western Cape Provincial Sport Confederation.


He says all members had to adapt to the ban on all sporting activities quickly and they had to resort to having meetings via the digital platforms Skype and Zoom. Riad says they have been lucky because Telkom has a good dial-in number where they can dial in on Zoom for free and 100 participants are allowed, with 5 hours of meeting time for free.


Other means of communication Tennis is using are Skype and email. Cape Winelands had their annual general meeting via Zoom and Tennis WC will also have their AGM through Zoom on May 16. The president said he has asked other districts to do the same, and Eden will also have their AGM via Zoom on May 20.


He said Tennis WC's constitution has been changed to allow for electronic meetings and the amended constitution was sent out to the members, who will be approving it at the next meeting.


Riad said they had to revise the calendar twice already and had to put staff either on leave or notify them to work from home. They will now wait until after Lockdown to finalise the calendar for 2020.


The president encourages players to stay at home but to still try and stay fit and focused. He says they are using the International Tennis Federation's guidelines to keep members up to date regarding exercises that can be done at home.
The ITF have apps available for junior players, officials, professional players, and referees to keep them up to date regarding everything to do with tennis.
There is a huge amount of information available and Tennis WC communicates it regularly to its members – from district to club level.


They also share fun videos on their website, like the one of Roger Federer and Novac Djokovic singing a Covid-19 song together, the Federer volley challenge, Federer hitting balls in his backyard or the two ladies playing tennis on a roof.
He believes if the youngsters see the top professional stars doing that, they would be encouraged to follow suit.
Riad added that he felt very sorry for the coaches, who at the moment do not have an income. There are more than 1 000 coaches in South Africa and some of them employ other coaches too. Clubs had to close for Lockdown and nobody has an income. 


Tennis WC put a stop to all competitions and the club that was on top of the log at the time was declared the champion. Award functions were postponed until further notice and the winter leagues have also been cancelled.
A decision about the resumption of competitions will be made once Lockdown is over.
Riad said Tennis SA has cancelled the Masters tournament but they still want to host the Nationals. But they can only make arrangements once the national Lockdown is over.
In the meantime, the president advises players to use the time at home to stay fit, work on their technique, recuperate from injuries and make time for self-reflection.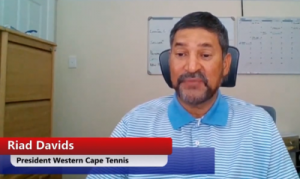 He also implores the tennis fraternity to think about the 
less fortunate during these difficult times and think about 
what the tennis fraternity can do for them.