The fact that they cannot show off their talents on the field of play does not prevent Transplant Sport Western Cape, a member of the Western Cape Provincial Sport Confederation, from keeping busy with administrative duties and planning for the future.
Herman Steyn, chairperson of Transplant Sport Western Cape, says despite all the hardships brought about by COVID-19 and the subsequent Lockdown they are optimistic that things will soon return to normal, albeit a "new normal".
For now, they are going ahead with meetings on the online platform Zoom. Here they brief athletes, administrators and coaches about what is happening in their sport. Coaches also continue to issue their athletes with training programs.
Covid-19 and the ban on live sports hit Transplant Sport just as hard as the rest, and maybe even harder, as all the athletes had organ transplants and are more prone to getting sick than the rest.
Herman says they had to cancel a lot of meetings, including the National Transplant Sport Championships that would have taken place at the University of Pretoria in June. It was cancelled first, but when it became clear that the Lockdown would be with us for a long time still it was cancelled.
For now, the University of Pretoria is provisionally booked for March 2021 for Nationals, but Herman says they do not know if they will be ready to host the meeting then, as the Covid-19 virus is so unpredictable.
He added that the National Championships is the first step to qualification for the World Games that would have taken place in May next year. That was cancelled and the next World Games will now be taking place only in 2023.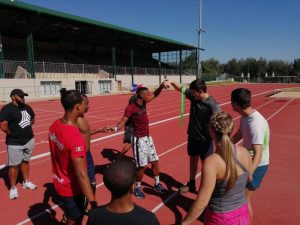 Herman said they were fortunate to arrange a few virtual cycling meetings the last month or two, but they cannot plan far ahead for any other sporting code at the moment.
He says they have not arranged any specific meetings or occasions for August, which is Women's Month. We do not have any specific projects for August, as most of our members are still in isolation at home, he explained.
All of us had organ transplants and our immune systems are very weak so we avoid any occasion where a lot of people gather, even if it is only 50. We take the lead from our national federation and we attend online meetings where we get updates on the latest developments in our sport.
We are a multi-sport federation and we take part in 11 different sporting codes of which athletics is the biggest. We also have tennis, squash, cycling, golf etcetera, but athletics is our most popular code.
Like I said, our national federation does our submission to government about our readiness to return to play and we abide by whatever they decide. We are in their hands. Tennis and golf are fortunate enough to be practicing already but the athletics stadiums and tracks are still closed so our athletes cannot get to the track.
They are restricted to exercising at home. Most of our athletes are members at Bellville Athletics Club and our school members – we do not have too many – are also still at home because schools are closed.
The majority of our female members are athletes and we also have a number of cyclists. They are very careful still and prefer to stay home because they are on immunosuppressants every day. We are very susceptible to flu and particularly to Covid-19, so we are careful.
Organ recipients who wish to find out more about Western Cape Transplant Sports can visit the website https://westerncapetransplantsports.co.za
For more information contact: Vivian de Klerk (Media Liaison: #TeamTransplant_SA) at viviandeklerk@gmail.com or 079 523 4026.