Online chess is their saving grace during the lockdown. That is the message from Andre Lewaks, president of the Western Cape Chess Association.
The Western Cape Chess Association is a member of the Western Cape Provincial Sport Confederation and represents chess clubs, schools, and tertiary institutions from all the districts of the WCPSC.
Western Cape is the biggest and also the most active province in the country, says Andre. He points out that based on national rankings Western Cape adult chess is much stronger than the rest of the country. A lot of the international masters are also based in the Western Cape.
All the districts – Eden, Overberg, West Coast, Cape Winelands, Cape Town, and Central Karoo – have active executive committees. The biggest issue under the current lockdown regulations is that players are not allowed to play over the board.
But that led to a massive growth in online chess and it was growing at a rapid rate, says Andre. Every week interregional competitions are taking place. Andre jokes that chess players could be locked up and the board taken away from them, but nothing will stop them from playing and exercising the mind.
Just the past weekend 10 regions – including Johannesburg, Nelson Mandela, Sedibeng and Ekurhuleni – took part in an interregional online tournament with a time control of 10 minutes per game. Western Cape won the tournament with a big margin.
The Western Cape executive also had a Google Hangouts meeting with the executive committees of the different districts on Saturday. They wanted to establish what more they can do to keep the players active during the lockdown, took stock of all the challenges members are facing, and discussed how they can assist each other even though they do not have the financial means, amongst other things.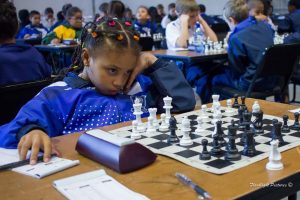 A commission was established that will look into the development of online chess in the Western Cape. Andre says they limit the games to 10 minutes to prevent players from cheating by using online engines to boost their game. There is also a 3-minute version of the online game as well as "Bullet" – a 60 second version of chess.
The commission will develop guidelines on how to play online chess that will be communicated to the districts. They will start working this week.
A coaching commission was also established and a database of all coaches in the Western Cape is being created. The coaching commission also starts working this week and its job will be coaches' development and training. They will also identify at which level a shortage of coaches exists and try to plug that gap.
For the first time a head coach – Reuben Salimu – was appointed, and his job is to develop a strategy for coaching in the Western Cape. He will also oversee the training of coaches and ensure that all the coaches are adequately equipped to deliver coaching of a high standard.
Last week Chess WC had its first online coaching seminar and that will be a regular occurrence in future. Free resources would also be made available online for players and coaches and an effort would be made to make online chess accessible for more players and coaches.
Andre says a lot of people who earn an income from the sport are suffering financially and he was hoping the Western Cape Department of Cultural Affairs and Sport would assist chess with funding, as they are continuing to be active and are continuing to support children from previously disadvantaged areas.
In order to provide some relief a coaching fund has been established and Andre encourages people to donate money to the coaches and referees. Online tournaments are in the pipeline and the entry fees from those tournaments will be going to the coaching fund.