Bridge – like all other sport codes – is feeling the stress and frustrations of the lockdown brought upon us by the covid-19 virus but they have turned to online competitions to keep the players sharp and active.
Tim Cope is the president of Western Cape Bridge, a member of the Western Cape Provincial Sport Confederation, and they represent about 16 clubs with approximately 750 members.
He says they are making use of the online platform Bridge Base Online to set up daily tournaments for members to participate in.
Tim was happy with the great response they are getting from the majority of their membership saying most of them are playing online two or three times a week. A small administrative fee is charged to cover the costs of the official who has to run the tournament.
According to Tim bridge has two aspects to it – one is the mental challenge and the other one is the social part of the game (the meeting and greeting of people). Currently they are missing out on the social aspect.
Bridge as an organisation, however, was fully aware of the fact that they were not going to be able to play bridge at a club for a very long time. You cannot self-distance at a bridge table and it is a very tactile sport, as you are passing the same cards from table to table.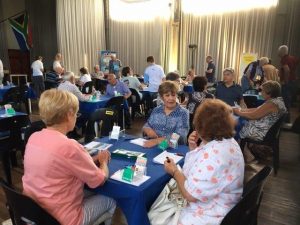 Every bridge club had to close down, and the online platform is now in big use. Even after their tournaments have finished Tim can look at any stage and see how many of their membership are playing online in other tournaments.
He says they have seen that 70 or 80 of their members are playing online at any time of the day. They are playing matches against each other and against people from elsewhere in the country.
Tim is also a member of the South African national team and they play a lot of international practice matches against other countries online at the moment. He plays twice a week and this week they played against the German national team and last week they took on the Norwegian team.
The World Championships that was supposed to take place in August in Italy was postponed until March next year.
Bridge is definitely feeling the financial effects of the lockdown, as they do not have the clubs operating thus denying them an income. Fortunately, their expenses are relatively low, and Tim was hoping the money in their account would carry them through this challenging period.
He says they are still paying their four fulltime staff members their full salary and will continue to do so for however long the lockdown lasts.
As far as administration of the sport is concerned, they keep in touch daily via Skype, telephone calls, emails and WhatsApp.
Tim says they want to encourage bridge amongst the youth and also want to transform the game, but with schools in lockdown it was difficult. And even when they reopen, he doubts whether they will get back into schools immediately to start the teaching programs there again.
They were teaching at about 12 schools and another 3 schools were going to come on board but have not joined up when the lockdown started. Tim says they are available to teach bridge at any school for free.